You are invited to join us on a journey back in time, as we retrace the steps of the Pilgrims in the Netherlands and England. A portion of the proceeds will benefit Plymoth Plantation.
Highlights include:
Canal cruise in Amsterdam
Royal Delft Pottery tour
Pilgrim Church in Rotterdam
American Pilgrim Museum in Leiden
Visit to the replica Mayflower being built in Harwich
Church service (optional) at St. Mary's Church in Dedham
Pilgrim sites in Boston, UK

Full day with Pilgrim historian and author Sue Allan
John Bunyan Museum and Bunyan Meeting Free Church
Optional Shakespeare Play in Stratford-upon-Avon
Bayard's Cove, Dartmouth
Mayflower Museum and Memorial, Plymouth
Mayflower Memorial, Southampton
Free day in London
Rowena Drinkhouse, Reformation Tours, LLC
Gail Arndt, Tours Trends, Ltd
Pre-Tour to Amsterdam and Haarlem
Pre-tour Day 1: Departure
Depart the USA for overnight flights to Amsterdam. (IF)
Pre-tour Day 2: Amsterdam
On arrival in Amsterdam, we will transfer to our centrally located hotel and meet Rowena Drinkhouse, our tour host. In the afternoon we will visit Anne Frank's house and learn more about this Jewish family's lives during World War II. We will dine at an authentic Dutch restaurant this evening. (IF/D)
Pre-tour Day 3: Friday, July 17, 2015: Amsterdam, Haarlem
In the morning, we will travel to Haarlem to see Corrie Ten Boom's home and learn about all that this Dutch Christian family did to save the lives of Jewish men, women and children. We will return to Amsterdam to greet the arriving travelers (see Day 2 below)
____________________________________________________________________________
Day 1: Thursday, July 16, 2015: Amsterdam
We depart the USA for overnight flights to Amsterdam. Group flights will be offered from Boston. (IF)
Day 2: Friday, July 17, 2015: Amsterdam
On arrival in Amsterdam, we will transfer to our centrally located hotel and meet Rowena Drinkhouse and Gail Arndt, our tour hosts. In the afternoon we will have a walking tour of Amsterdam and a cruise on the scenic canals.  A special welcome dinner at a typically Dutch restaurant will give us the opportunity to get to know our fellow tour members. (IF/D)
Day 3: Delft, Rotterdam, Leiden, Ferry
After a relaxed breakfast, we will tour the Royal Delft Pottery, including tea/coffee, apple cake and a small gift. There will be plenty of time to browse in the shop. We will continue on to the historic Delfshaven area in Rotterdam and see the Pilgrim Church and harbor where the Pilgrims boarded the Speedwell in July 1620.  In the afternoon, we will visit the Leiden American Pilgrim Museum Foundation which tells the Pilgrim story using collections of furnishings and artworks in a house built in 1370 whose rooms recall Pilgrim times. We will dine in Leiden, then board the ferry in the Hook of Holland for our overnight sailing to Harwich, England. (B/D)
Day 4: Harwich, Dedham
We will arrive in Harwich early in the morning and visit the replica Mayflower that is being built.  We will arrive in Dedham in time for the  (optional) 10:30 AM service at St. Mary's Church. We'll see the Mayflower Commemoration pew after the service and enjoy coffee and cookies with the local congregation. The afternoon is free to have lunch, walk to Flatford Mill or maybe browse the many craft shops.  We will stay in the Calydon Country House Hotel near Ipswich. (B/D)
Day 5:  Boston, Lincoln
On our way to Boston, we will stop at the Pilgrim Father's Memorial on the banks of the Haven. Our Boston tour includes St. Botolph's church, and the medieval Guildhall. Then we will continue on to the White Hart Hotel in Lincoln, where we will spend two overnights. (B/D)
Day 6: Scrooby, Redford, Lincoln
Pilgrim expert and renowned author, Sue Allan, will join us today on a full day of touring Pilgrim sites in the area, beginning with Babworth and Scrooby Church and Manor House Gardens. After lunch at the Mayflower Pub in Austerfield, we will tour Gainsborough Old Hall. We will return to Lincoln and dine at the restaurant of our choice. (B/L)
Day 7: Bedford, Stratford-upon-Avon
We will tour the John Bunyan Museum and Bunyan Meeting Free Church in Bedford today and learn more about the author of Pilgrim's Progress. We will arrive in Stratford-upon-Avon in the early afternoon and the rest of the day is at leisure. Tickets will be available to a Shakespeare Play.  We will stay in the Falcon Hotel in Stratford. (B)
Day 8: Dartmouth, Plymouth
After heading south, we will stop in Dartmouth to see the cobbled Bayard's Cove, where teh Pilgrim Fathers rested in August 1620, while the Speedwell underwent repairs.  Continuing on to Plymouth, we will visit the Mayflower Museum and  the memorial at the Barbican, commemorating their departure on September 6, 1620. We will stay in the Copthorne Hotel in Plymouth. (B/D)
Day 9: Salisbury, Southampton, London
Today's lunch stop is in Southampton, where we will see the city walls, harbor, and Mayflower Memorial.  We will arrive in London in the afternoon and the rest of the day is at leisure.  Our final hotel is the Park Plaza Riverbank in London.  (B)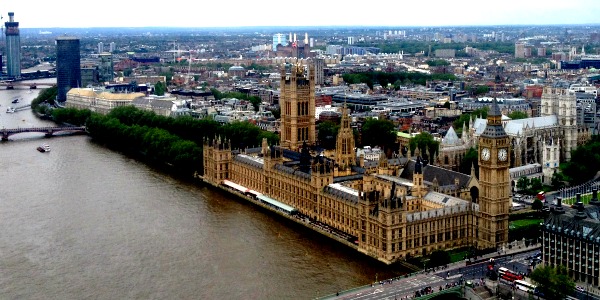 Day 10: London
We have a free day to enjoy London with travel cards. The tour guide will be available for optional trips, such as Westminster Abbey, St. Paul's Cathedral, The Tower of London and Southwark Cathedral. Our farewell dinner is at our hotel. (B/D)
Day 11: Return
Transfers are provided to the airport for our return flights to the USA. (B)
We reserve the rights to alter itineraries without notice should it become necessary. While on tour, if conditions necessitate changes, or if certain features are unavailable or limited, we reserve the right to vary or substitute alternatives. All prices are calculated at the exchange rate in effect at the time of this quotation. Should currency fluctuations necessitate an adjustment in tour price the adjusted price will be reflected in the final invoice. The tour was priced at 1 Euro = 1.36 US dollars.
What's included in the land price of $2,999?
Price based on a minimum of 30 participants
"Your Tour Includes
• Transportation: via deluxe air-conditioned coaches
• Overnight ferry from Hook of Holland to Harwich in inside cabin (double occupancy)
• Accommodations (double-occupancy) in superior 3-star and moderate 4-star hotels
• Meals as indicated in the itinerary
• Rowena Drinkhouse and Gail Arndt as tour escorts throughout the tour
• Local step-on guides for city tours and major attractions
• Entrance fees included as per itinerary
• All transfers, as a group
• Baggage handling (1 piece of baggage per guest)
• All taxes and tips except as indicated below.
Your Tour Does Not Include
• Amsterdam pre-tour ($300)
• Air transportation
• Single supplement ($800 on main tour)
• Meals and beverages not identified in itinerary
• Items of a personal nature, such as passports and visas. Passports must be valid for six months beyond return date.
• Passenger trip cancellation insurance (details sent with reservation form)
• Gratuities for tour managers, and drivers.
Payment Schedule
• Deposit of $350 will secure your place on the tour. Please send all payments to Reformation Tours, P.O Box 854, Belleville, IL 62222.
• Final invoices will be sent in April 2015
• Final payments will be due no later than May 2, 2015.
• Reservations will be accepted after May 2, 2015, subject to availability.
• Early registration is encouraged. Please note: all credit card payments will incur a 3% surcharge.
Insurance
Group insurance through MH Ross is available for $280 per person, which covers the land and approximate air cost. Payment is due no later than March 14, 2015. Alternative options will be available after this date for late sign-ups. Click here to read about the coverage.